Fireball Staff

| | |
| --- | --- |
| Category: | Weapons |
| Required class: | Conjurer, Wizard |
| Base damage: | 4 |
| Use: | Fireball (1) |
| Weight: | 30 |
| Durability: | 100 |
| Worth: | 1000 |
| Sell: | ~334 |
| Required strength: | 20 |
| Examine info: | This staff emits a single ball of fire. Wizards and Conjurers may use this staff. |
| Object ID: | LesserFireballWand |
The Fireball Staff emits a fairly weak blast, about the power of a Wizard's level 1 Fireball. It can be useful for eliminating weaker enemies and should be used in the same way as the spell of the same name. If found, a Fireball Staff of Recharge provides a very economical way to conserve mana and ammunition, especially for Conjurers. However, Wizards will find that they have better tools for the job - the Triple Fireball Staff in particular.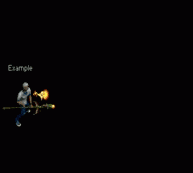 LesserFireballWand default mod
Edit
Enemy
00 00 00 00 14 14 64 00 00 00 64 00 00 00 00 00
Ad blocker interference detected!
Wikia is a free-to-use site that makes money from advertising. We have a modified experience for viewers using ad blockers

Wikia is not accessible if you've made further modifications. Remove the custom ad blocker rule(s) and the page will load as expected.