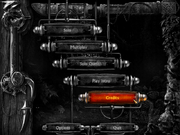 Credits can be found in the main menu of NoX. When selected, a list of credits is for the game is shown. It can also be accessed by completing any class in "Solo" mode.
List of credits for NoX
Edit
A Westwood Studios game
Executive Producer and Creative Direction
Technical Director and original Concept
Producers
Mark Skaggs
Frank Hsu
Ken Allen
Programming
Edit
Lead Programmer
Programmers
Colin Day
Jerod M. Bennette
Robin Keir
Steve Ganem
Thomas Rolfs
Stephen J. Martin
Network and Security Lead Programmer
Additional Programming
Michael Morrison
Sondra Iverson
Dean Iverson
Installer Programming
Maria de Mar McCeady Legg
Art and Animation
Edit
Lead Artist
Artists
Khanh Nguyen
Stone Perales
Brad Grace
Josh Taylor
T.J. Frame
Character Animator
Installer and Chapter Illustrations
Additional Art
Dan Lyons
Gary Freeman
Heuristic Park, Inc, Atlanta GA
Design, Story and Sound
Edit
Design Direction
John Hight
Michael S. Booth
Brett Sperry
Senior Level Designer
Level Design
Bryan Hansen
John Lee
Eric Beaumount
Mical Pedriana
Tim Campbell
Jeremiah Cohn
Story
Dialogue
Design Testers
Shawn Roberts
Brad Burnham
Frank Yu
Kiet Han
Brandon Norris
Michael H. Celmer
Joseph UG. Lee
Lead Sound Designer
Sound Designer
Original Score
Manual Writer
Manual Editor
Cinematics
Edit
Dramatic Asset Producer and Casting
Dramatic Asset Director
Cinematic Sound Design
Video Editing
Visual Effects
Audio Direction
Computer graphics
Eric Gooch
Kevin Quattro
Terrence Walker
Jim May
Chuck Carter
Jason Zirpolo
Tim Fritz
Quality Assurance and Testing
Edit
QA Directors
Glenn Sperry
Mike Meischeid
Lead Testers
QA Database Administrator
QA Technicians
Tory Leonard
Beau Hopkins
QA Testers
Shane Dietrich
D'Andre Campbell
Randy Greenback
Jon Hall
Alex Colom
Chad Fletcher
Chris Blevens
Clinton Autrey
Dave Shuman
DeMarlo Lewis
Errol Campbell
Jason Campbell
Justin Bloom
Levi Luke
Michael Chatterton
Paul Winegardner
Randy Stafford
Richard Rasmussen
Steve Laity
Steve Tarantino
Shawn Roberts
Lloyd 'Leachy' Bell
Marketing
Edit
Vice President, Marketing
Marketing Product Manager
Public Relations Director
Public Relations Coordinator
Product Demonstrations
Online Director
Director of Creative Services
Westwood Online
Edit
Technical Director
Online Programmers
Neal Kettler
Joe Howes
Kevin Scruggs
Gavin Snyder
Electronic Arts - Hardware Compatibility & Testing Lab
Edit
EA CAT Manager
EA CAT Lab Techs
Jay Miller
Mike Elliott
Mike Jung
Administrative Support
Edit
MIS Manager
MIS Technicians
Office Manager
Administrative Assistance
Julie Brugman
Tanya Pereira
Legal Assistance
Localization
Edit
Localization Project Managers, Electronic Arts, Europe
Sam Yazmadjian
David Lapp
Localization Project Manager, Electronic Arts / SquareSoft, Japan
Localization Project Manager, Electronic Arts, South Korea
Localization Administrative Assistance, South Korea
Jungwon Hahn
Christine Kong
Language Testers
Lionel (noremorse) Berrodier - French
Lars (VEYATZD) Berinbrinker - German
Leonardo Gajo - Italian
Junitsu Kakuta - Japanese
Michey Kim - Korean
Special Thanks
Edit
Bing Gordon
Louis Castle
Douglas Evans
Michael Bartelme
Jim Stoner
Adam Rhodes
Ryan Chapman
Dave Eliasberg
Jessica Cecena
Masataka Nemoto
Restaurants On The Run, Irvine, CA
Buzzy's Recording, Hollywood, CA
Joanna Cassidy – Hecubah
Alan Oppenheimer – Captain, Necromancer 1, Lewis
Seann Scott – Jack
Susan Chesler – Tina
Mark Rolston – Horrendous, Guard 1, Townsman 3
Ian Abercrombie – Horvath, Loproc
Bill Woodsen – Narrator, Mordwyn
Lee Perry – Mayor Theogrin, Guard 2, Rogue, Townsman 1, Barkeeper
Neil Ross – Mystic, Guard 1, Mine Worker 1
Erik Thompson – Shopkeeper, Guard 3, Townsman 2
Susan Blakeslee – Woman 1, 2, 3
Warren Burton – Aldwyn, Mine Worker 2, Morgan
Paul Mercier – Quartermaster, Aidan, Henrick, Necromancer 2, Mine Worker 5
Michael S. Booth – Gearhart
John Hight – Archivist, Townsman 4, Guard 4
Julie Brugman – Woman 4, 5, Dryad
David Fries – Guard 5, Townsman 7, Apprentice
Mark Skaggs – Townsman 5
Glenn Burtis – Townsman 6
Tanya Pereira – Woman 6
Christine Lundgren – Woman 7
Motion Capture Performers
Edit
Regina Coffman – Hecubah, Tina
Dale Clemons – Captain
Josh Musselman – Jack
Adrian Sharp – Ogre 1
Diab Shetayh – Ogre 2
Family Special Thanks
Edit
Julie, Christopher, and William Hight
Kristen Booth
Robin, Josh, and Beth Brown
Jennifer Robb
Lisa Bucek
Janna Zirpolo
Evercody
Terri, Jackie, and Pepper Lee
Laura, Ben, and Jack Skaggs
Mallory Foland
Ernest and Evelyn Beaumont
Melissa Beaumont
Christine Palma
Tim Donley
Kosal and Brianna Martin
Susan Fries
Robert Fries
Alicia Campbell
Kim Kelly
Laura Keir
Audrey & Shannon Hsu
Kevin Potter
And… Nemo the Wonder Dog
Ad blocker interference detected!
Wikia is a free-to-use site that makes money from advertising. We have a modified experience for viewers using ad blockers

Wikia is not accessible if you've made further modifications. Remove the custom ad blocker rule(s) and the page will load as expected.